CURRENT_LOCATION not translated yet : location >>
POSSIBLE_LOCATION not translated yet : GENERAL

(11)

Africa

(14)

America

(141)

Asia ; middle East

(80)

Australia ; Oceania

(7)

Eastern Europe ; Russia

(351)

Western Europe

(800)

World

(23)
CURRENT_CONTENT not translated yet : information >>
POSSIBLE_CONTENT not translated yet : accommodation

(1253)

cityinfo

(131)

transportation

(81)
PAGES not translated yet : 0 10 20 30 40 50 60 70 80 90 100 110 120 130 140 150 160 170 180 190 200 210 220 230 240 250 260 270 280 290 300 310 320 330 340 350 360 370 380 (390) 400 410 420 430 440 450 460 470 480 490 500 510 520 530 540 550 560 570 580 590 600 610 620 630 640 650 660 670 680 690 700 710 720 730 740 750 760 770 780 790 800 810 820 830 840 850 860 870 880 890 900 910 920 930 940 950 960 970 980 990 1000 1010 1020 1030 1040 1050 1060 1070 1080 1090 1100 1110 1120 1130 1140 1150 1160 1170 1180 1190 1200 1210 1220 1230 1240 1250 1260 1270 1280 1290 1300 1310 1320 1330 1340 1350 1360 1370 1380 1390 1400 1410 1420
RESULTS not translated yet :
The Pirate Hostel

Proskauer Strasse 20
10247 Berlin
Germany
Cinnamon Hostel

ul. Kazimierza Wielkiego 67
50-077 Wroclaw
Poland
HiWay Hostel

ul. M. Curie-Sklodowskiej 9/4
50-381 Wroclaw
Poland
Hostel Wrocław

ul.M.-Reja j54-56
50338 Wroclaw
Poland
Hostel Benita

Droga do Olczy 20a
34-500 Zakopane
Poland

Benita hostel is located on Droga do Olczy street only a 15 minute walk from downtown Zakopane. In our home, built in the regional highlander style, you will find a very friendly and hospitable atmosphere. We offer 1, 2, 3 and 4 person rooms, most with private bathrooms. Each room is equipped with a TV, electric kettle, plates and silverware. We also provide access to a fully equipped kitchen where you can prepare your own meals.
Nathans Villa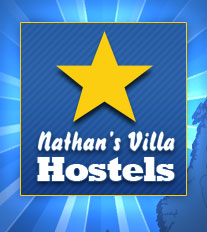 Dordea Hostel

Principala nr.193
550200 Sibiu, Vale
Romania

Hostel is situated in Marginimea Sibiului, at 23 km from Sibiu,Vale village, a charming place where you will be in middle of nature, much green around, forest, fresh air,one ideal place for rest or why not, to have fun together with family and friends. We have 10 places in total in 4 rooms. > > -room 1: 3 beds > -room 2: 1 bed > -room 3: 2 beds > -room 4: 2 matrimonial beds > - bathroom > -kitchen > -place for eat > -place for grill > Price is 10 euro for a person .
Retro Youth Hostel

potaissa str. 13
3400 Cluj-napoca
Romania