CURRENT_LOCATION not translated yet : location >>
POSSIBLE_LOCATION not translated yet : GENERAL

(11)

Africa

(14)

America

(141)

Asia ; middle East

(80)

Australia ; Oceania

(7)

Eastern Europe ; Russia

(351)

Western Europe

(800)

World

(23)
CURRENT_CONTENT not translated yet : information >>
POSSIBLE_CONTENT not translated yet : accommodation

(1253)

cityinfo

(131)

transportation

(81)
PAGES not translated yet : 0 10 20 30 40 50 60 70 80 90 100 110 120 130 140 150 160 170 180 190 200 210 220 230 240 250 260 270 280 290 300 310 320 330 340 350 360 370 380 390 400 410 420 430 440 450 460 470 480 490 500 510 520 530 540 550 560 570 580 590 600 610 620 630 640 650 660 670 680 690 700 710 720 730 740 750 760 770 780 790 800 810 820 830 840 850 860 870 880 890 900 910 920 930 940 950 960 970 980 990 1000 1010 1020 1030 1040 (1050) 1060 1070 1080 1090 1100 1110 1120 1130 1140 1150 1160 1170 1180 1190 1200 1210 1220 1230 1240 1250 1260 1270 1280 1290 1300 1310 1320 1330 1340 1350 1360 1370 1380 1390 1400 1410 1420
RESULTS not translated yet :
Graziella Travel
Procida ist sowohl vom Festland als auch von Ischia aus einfach zu erreichen. Von Neapel, Pozzuoli und Casamicciola verkehren Fähren und Tragflügelboote in Abständen, die optimale Verbindung mit dem Hafen von Marina Grande garantieren. In wenigen Minuten also von der Großstadt ans Meer.
http://www.isoladiprocida.it
Hostel Lika

Pasmanska 17
- Zagreb
Croatia
Saqua Hostel & Albergue

Oi ... Hi ... Hola ... Hej ... ;-) We proudly introduce our brand new, small & cozy hostel with a great atmosphere in a beautiful location. The small beach house can fits up to 10 people in 1 double, 1 triple room and three confortable tents for 1, 2 or 3 persons w/ matress, light & fan and all facilities 24h available. It's cool, cheap and fun!!! Saquarema's people and town are so friendly that will be hard to you to leave the paradise. We speak portuguese, english, spanish & swedish
Lucky Eden Hotel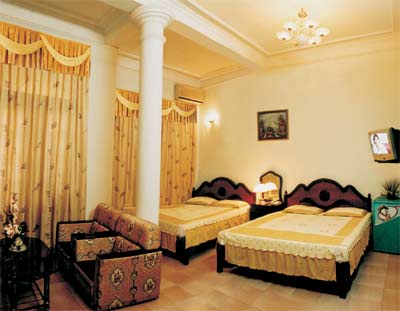 LUCKY EDEN Hostel is situated in an ideal location for traveler and business customers. The hostel have 25 comfortable, clean, convenient and quiet rooms. At a short distance from the hostel you can reach Hoan Kiem lake, Ho Chi Minh Mausoleum, shopping area, walking street, bar, restaurant, bookshop and ATM. All of the rooms are comfortable and nicely equipped with a homely atmosphere. All rooms have air-conditioning, heating, mini-bar, bath-tub with hot shower, satellite TV and IDD telephone. The hostel also has a variety of facilities and services that are sure to meet the needs of both business and leisure travelers such as: business center, tour information, visa services, flight, train and bus tickets. Included for free is breakfast, 24 hour ADSL Internet, free pick up from airport, train and bus station to the hostel when arriving. The minute you arrive at Lucky Eden Hostel, you can feel warm and welcome, by our professional and experienced staff. This is a perfect stop over for travelers when visiting the capital city of Hanoi.
Baz Bus
BAZ BUS (South Africa) - South Africa's only convenient hop-on hop-off door-to-door backpacker bus service to over 180 hostels in over 80 towns and cities.
http://www.bazbus.com
Barcelona Lofts - Rooms from € 16 per night

Carrer de Roca 26
08002 Barcelona
Spain

We hosts couples, groups and young travellers in private converted apartments. Our apartments are located in the heart of Barcelona, in the old city and Eixample districts, just a 5 to 15 minutes walk from the Ramblas. What is a loft? A loft is a converted property which was a former shop, office or warehouse. Our lofts provide an alternative and relaxed location, bathroom and a small lounge where you can meet other guests.